Overview
TMS Quality Compliance Software ensures your organization is empowered with a full-­featured software solution that automates and enforces your business processes while supporting regulatory compliance to accomplish your quality initiatives.
The TMS Base System is comprised of two fundamental components, a comprehensive Document Management system and an extensive Training Management system. TMS provides a flexible platform for adapting these components independently or combined, to accommodate your organization's unique needs and goals.
In addition, TMS Quality Compliance Software optional modules are available to expand its capabilities for even more advanced and specialized functionality with Forms & Workflow, Quizzing & Certification and Change Control Modules.
Document Management
(Base System)
The Document Management base portion of TMS offers extensive productivity improvements for your organization.  You can securely store, access, update, and share any document type to efficiently manage large volumes of information within your organization.  TMS technology automatically streamlines your processes by distributing notifications to predefined authorized users for reviewing, signing, training, and other activities.  TMS helps maintain compliance with industry and global regulatory requirements.
TMS has many features which include: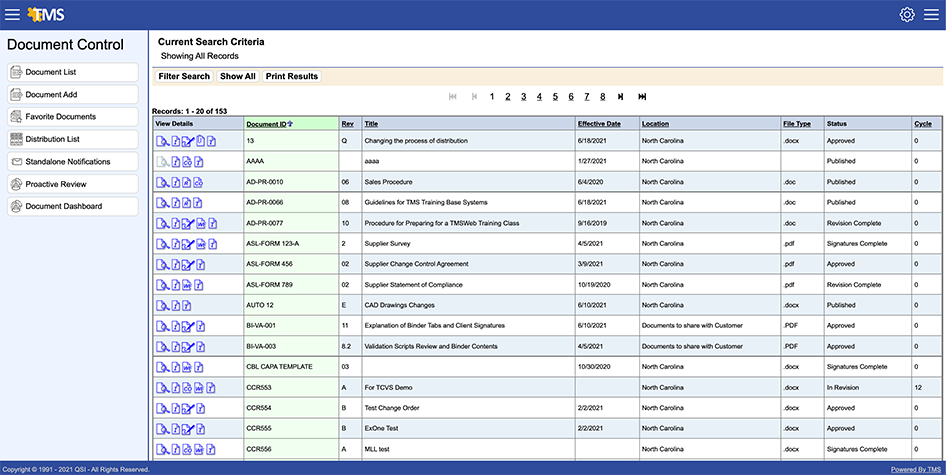 Document Security with Permission-Based Access
Extensive Document Search Functions (Simple or Advanced)
Document Revision Control and Comparison (Red-Lining)
Archived Document History Fully Captured for Audit-Readiness
Email Integration Linked to Activities with Auto-Notification
Electronic Signatures with Date/Time Stamp (21 CFR Part 11)
Integration with TMS Training Management
Ability to track Related or Referenced Documents
SOP Cycle Review Management
Ability to add additional Meta Data fields
Document Management Spec Sheet
Training Management
(Base System)
The Training Management base portion of TMS centralizes and organizes the entire training process, reducing the time and resources associated with your employee learning objectives.  TMS is an integrated training tracking solution which automatically notifies employees of required training with activity links, alerts and reminders for incomplete or overdue tasks.  It manages the company knowledge, policies and procedures imperative to employee awareness and ensuring that jobs are understood and implemented to maintain quality and compliance.


TMS Training Management allows for:
E-Learning with email integration and auto-notification of training
E-Signatures with Date/Time Stamp captures employee and/or manager signoff
Training Dashboard quickly provides visibility into training progress
Training Matrixes develop action plans for a competent cross-trained workforce
Training Deviations provide a clear look into employee skills against needed skills
Reports generate an extensive range of training data for gaps, completion and history.
Integration with TMS Document Management
Training Management Spec Sheet
Forms & Workflow
Module
The TMS Forms & Workflow Module provides the ability to design forms with built-in workflows that are fully automated and customized for your organization.  Integration with the TMS application provides multi-step workflows with all the advantages of managing routing, auto-notification, assigned tasks, due dates with escalation, electronic signatures, and more. This TMS Module automates your complicated paper-based processes to create powerful, effective forms and improves workflow efficiency –- the possibilities are endless!


Examples of Forms & Workflows include:
Corrective and Preventive Action (CAPA)
Competency Assessment
Product Design & Development
Purchase Requisitions
Supplier Evaluations
Laboratory Notebook Tracking
And much more…
Quizzing & Certification
Module
Ensuring that employees are knowledgeable and comprehend what is required, is essential for minimizing risk and achieving success for your company.  TMS Quizzing & Certification Module allows you to construct and issue on-line quizzing as a method for verifying employee training and understanding based on job roles and competencies.  Regulated companies are very aware that Competency Testing and Skills Assessment is also a major focus for FDA and ISO auditors.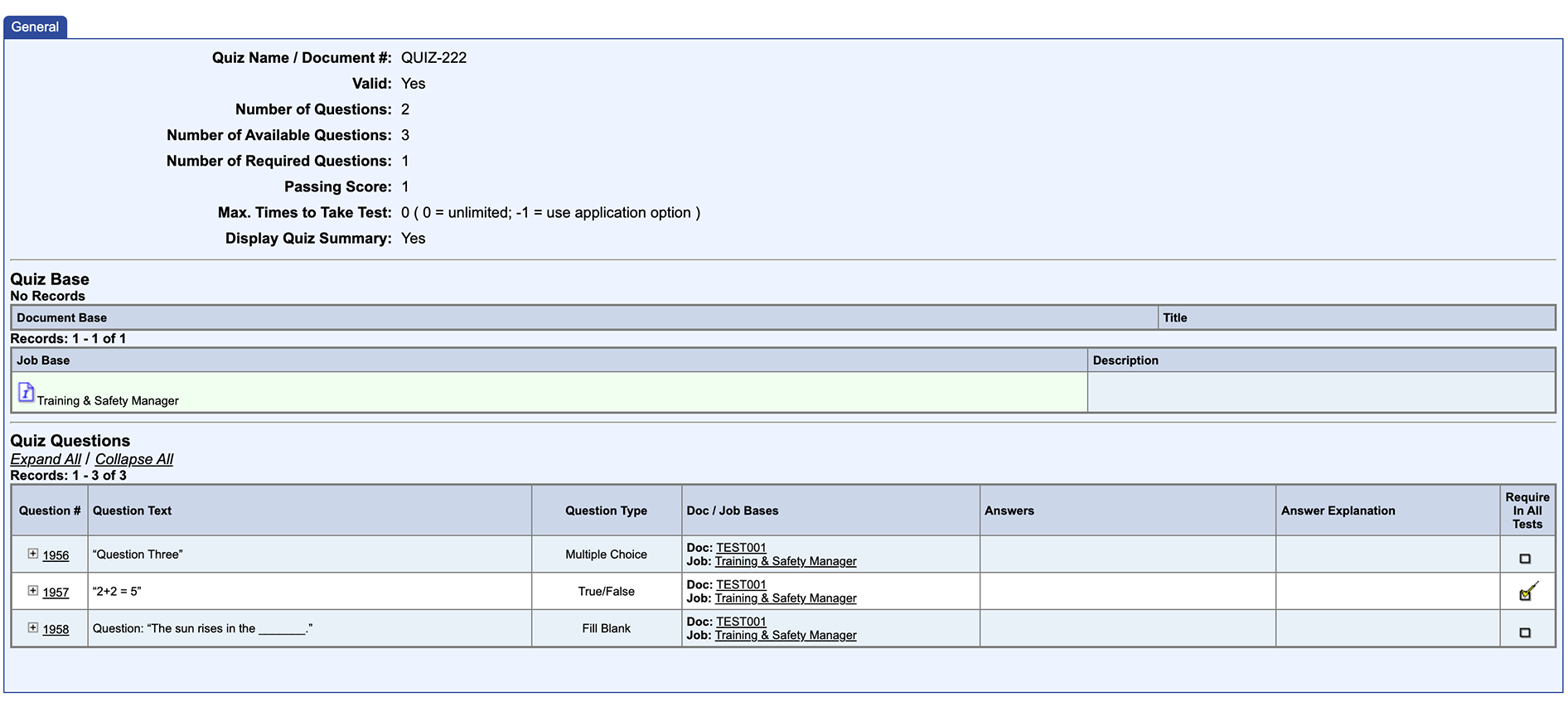 Valid Tests, entirely user-defined, measure the knowledge and skills required for a job
Various question formats (multiple choice; text entry; simple true and false answers)
Test questions rotate to prevent individuals from sharing answers.
Tracking Quiz identifies gaps in comprehension of information relating to job functions.
Manager notification, when an employee fails a test, alerts the need for additional training.
Report metrics on failure percentages, identify corporate training and development needs.
Quizzing / Certification Spec Sheet
Change Control
Module
The Change Control Module provides a convenient and centralized process for managing the change request lifecycle for a group of documents. It allows for attaching documents to a Change Order and creating an electronic packet when routing documents for the review and signature stages. The Change Order notifies users of task activities and includes review, post-implementation steps and training notifications.
Ability to attach reference documents (read only)
Auto Numbering Change Order Packet
Notification when all training is completed on the Change Order
Pre-Review and Formal Review stages
Add and delete reviewers and documents during review stages
Group approval of all attached documents.